SpanishSkype – About our online Spanish lessons
Know more about our online Spanish lessons: Why study with Spanish Skype? What are Spanish Skype online lessons like?
How does it work? And what do you need to learn Spanish online with Spanish Skype?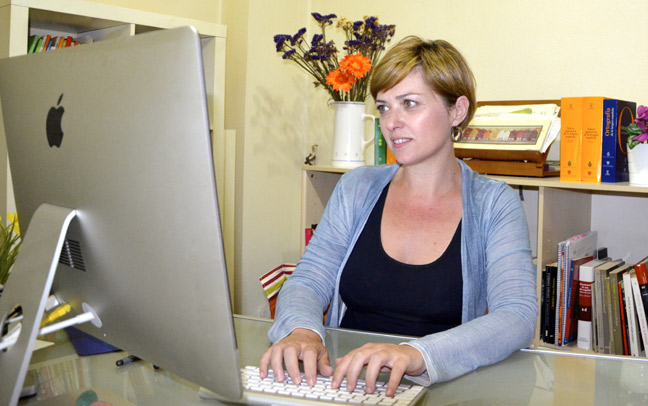 Spanish Skype is an online school which offers online Spanish lessons on Skype so that you can study wherever you are and whenever you want.
"Spanish Skype was born from my extensive experience and training as a Spanish teacher for foreign learners. The internet and up-to-date technology has allowed me to develop new ideas and mediums adapted to the needs of today's Spanish learners."
The goal of online Spanish classes is to make learning fun and interesting while at the same time encourage the development of the oral and written communication skills often necessary to travel, meet people and do business.
Why study with Spanish Skype?
Thanks to technological advances and the resources now available on the internet, Spanish Skype gives you the efficiency of personalised, face-to-face classes and the comfort of flexibility.
If, in the past, you have invested both time and money in studying a language but have not progressed, it's time to try Spanish Skype!
Far from being impersonal users of Spanish Skype have found communication between student and teacher to be relaxed and friendly. This atmosphere of confidence is essential when learning a language.
Our online Spanish lessons via Skype are practical, fun, cheap and above all give results.
What are online Spanish Skype lessons like?
Online Spanish lessons are given using videoconference calls on Skype.
The teacher prepares individualised lessons for each student, depending on their interests and needs. Before each class you will be sent the material to be practised in class.
During the online Spanish lesson you will do a series of activities to practise grammar, vocabulary, pronunciation as well as cultural information to develop all the communicative skills; reading, writing, speaking and listening.
After the lesson you can do complementary exercises to practise what you have seen in class.
You will follow a student book as well as use real-life materials such as WebPages, songs, videos, podcasts, etc. Your teacher will decide which level is best for you and the student book can be sent in digital version or as a physical book, depending on which you find most comfortable to work with.
How does it work?
What do I need to study on Spanish Skype?
For your online Spanish lessons, you will need:
a computer with internet connection
loudspeakers
a microphone
a webcam ( recommended but not obligatory )
… and of course a desire to learn Spanish!